"My Michael"
Eulogy by Monica Iken
Read for the memorial service of Michael Iken
St. Patrick's Cathedral, New York
September 27, 2001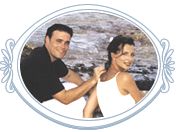 The last time I saw you, I was half-asleep, you were smiling and you came to kiss me goodbye. You said, "I love you, have a good day."

And those words soothed me back to sleep. Not long afterward, the phone rung and I was startled to hear your voice. You said you were all right, not to worry and turn on the news. I said "Okay" and turned on the news, in horror. You called again to assure me that you were safe and to call the family. I wished I could have told you to run from the building. To get out. But I didn't, I couldn't believe what I was seeing. You told me you were safe and I wanted to believe you. I never dreamt those would be the last words I would hear from you.

As we all know, Michael was a character with his good-byes. He was always looking to do the great escape. He didn't like to stay in one place too long. At gatherings and parties, all of the sudden you would look for him and he would be gone. I called him the moving Nomad. He told me that someday he would take me on a great adventure around the world. I wish we could still do that, Michael.

When Michael told me he was going to take sailing lessons, Jennifer and I cracked up. We couldn't imagine Michael sailing the high seas ..... So he set out to prove to me that he could do it. In late August, he took me sailing in the Hudson River where we admired his place of work, the World Trade Center. He told me that I could steer so well. He was so proud of me.
Michael was the best. He included me in all of his activities, much to the chagrin of his colleagues and clients, I'm sure. He even wanted me to attend his "boys' nights out." I'm sure his best buddy, Kevin was thrilled to see me all the time, but he understood that we were a package deal. Right, Kevin? That's how Michael was. He wanted to be with me all the time and I loved him for it. Trust me, there are not many people who want to be with me all the time. For those of you who know me, you're probably nodding your heads in agreement right now.

Michael even gave me the keys to Kevin's house and the keys to his car, the precious Volvo. What was he thinking? Did you know that he loved making pizza? He made the most delicious pizza I've ever tasted. We all know that Michael loved to laugh. In fact, one night he and I were laughing so loud that my friend Jennifer, who lives on the other side of our townhouse complex, had to close her windows because she was so annoyed. We had such a good time together. One of the things he loved to do was to go down to the river with me at night and gaze at the bridge all lit up and see the water reflecting the life of the city. I'll miss that look of wonder in his blue eyes.

He was so good with my mother, getting out of the car to greet her all sweaty from playing basketball on Monday night, September 10th. Playing basketball was his favorite thing to do. I'm so happy that he had the chance to play the game he loved for one last time before he was taken from us.

Did you know he had an obsession with running water? He used to complain that Kevin didn't have enough water pressure in his house, so the first thing he did when he was at our apartment was check the water pressure.

He also argued with me about the air conditioner. It was always too hot and I was too cold. We had to negotiate on the heating and cooling of our apartment before we went to bed each night. Sometimes he drove me crazy, it's true. Asking me where I'm going and how was I going to get here. But I was guilty of that too in my own way, following him around the house, constantly harping until I got him to do what I wanted. But our relationship worked. I've never been happier than in the past two years I spent with him. His favorite thing to say was birds of a feather flock together. That's how he described our relationship. We were both characters and we loved each other for our little quirks.

I never thought I would be without Michael. From the moment I met Michael I knew there was something about him. I was drawn to his soul. He had a way of looking deeply into my eyes and pulling me in. We were all drawn to Michael. He had that special something that made you want to be near him. He never realized that he was good looking. I was blessed to have had him in my life for two years. We never spent a night apart, we were together all the time. We made a great team!

I will miss his manly voice, his blue eyes, his laugh and his smile. I loved everything about him. I always told him that he was the "Best Husband." Michael was a character who lived his life to the fullest, he didn't have a fear of dying. We can take some comfort in this. I was proud to be his wife and know he was as happy and in love as I was. I wanted to grow old with him and looked forward to starting a family.

Now I look forward to be reunited with the soul I fell in love with. I know he will be waiting to greet me in the next life - where we can spend eternity together. Until then, I will rejoice in his memory. There is no doubt in my mind that he will be sitting right next to me on his favorite chaise. I am blessed to have a wonderful guardian angel at my side. He always wanted the best for me and supported me in whatever I wanted to do. I know that he is at peace and surrounded by family and friends as he was here on earth.

When I close my eyes I still see him smiling at me, telling me to have a good day on our last morning together.

I will try Michael. Until we're together again, I will try.


Back to Who We Are